Funded 6x on Kickstarter!
https://www.kickstarter.com/projects/bateske/arduboy-mini
What is this? An open source game development platform for ANTS?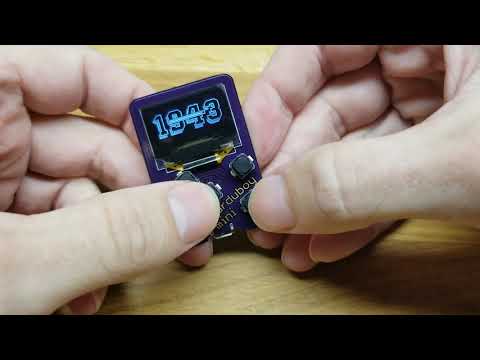 Introducing Arduboy Mini!
Arduboy Mini is small but it has lots of games!! Built using the external memory flash mod designed by @Mr.Blinky This tiny little device has the capability to store dozens and dozens of your favorite 8-bit open source games! Arduboy was reconstructed to smallest possible dimensions using the 0.96 OLED.
I used TQFP packaging for this one because I thought it would be easier to solder. That chip was but I made a lot of other design choices that made bringing this board up a major pain in the behind.
The tight placement of the passive components meant that if there was any problems during reflow it was very difficult to get a soldering iron in.
I omitted ISCP programming pads because I figured it would be fine to program the chip using magnet wire to the pins. This was a terrible and error prone idea. Put programming pads on your board, you are only making your own life more difficult!
I also neglected to connect the signal network for the chip select for the external eeprom memory chip, so I had a little magnet wire bodge on that.
It's about half of the size of an Arduboy!
The main lesson I learned on this which is actually more of something I already new, is the charging circuit will not power the device if a battery is not connected. This is the problem with Arduboys that have their battery tabs broken. The charger needs some kind of resisitive load in the circuit or it won't work.
I'll have to figure out a way to power the system with and without a battery installed. I'd like to let people chose to install the battery after and 3d print a case to keep the cost down to an absolute minimum.
The speaker was also omitted but easy to use solder pads are available to add your own.
You'll note a keychain hole too, but this thing is fragile!
Do you want an Arduboy Mini of your very own?
Yes, sign me up for Arduboy Mini
No, I have too many Arduboys already!
If yes, you are in luck! I'm planning on producing a limited edition batch of these in 4 different color PCBs so you can chose your favorite or collect them all!
Stay tuned for more!