Important!
After uploading Arduventure to your Arduboy you won't be able to upload another game using the normal process.
If you want to put a new game on your Arduboy with Arduventure, you must follow these steps:
Plug in your Arduboy to the PC you will use for reprogramming
Turn on the Arduboy and from the main menu of Arduventure select "UPLOAD"
When the on screen instructions appear, press and continue to hold the down button. (This will place the Arduboy in bootloader mode, ready to be reprogrammed)
While continuing to hold the down button, press the upload button from your PC
When the upload completes, let go of the down button and after a short delay the new game will start
See here for the official video tutorial:
Please note that this video uses the up button because it is showcasing an old version.
Newer versions of Arduventure will use the down button.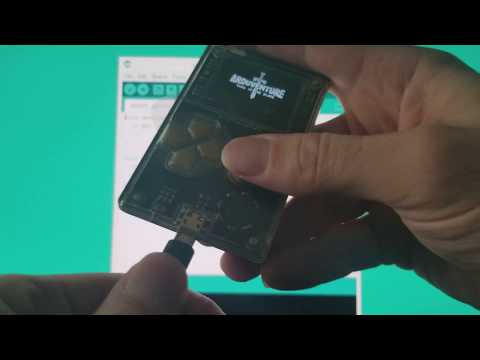 Arduventure
Hello everyone,
I received my DevKit two weeks ago and right away I decided to challenge myself and see if I could make a little RPG on it. I wanted to try and make it all work without the graphics being too abstract/simple. The game is still an experiment and not yet ready to play but I felt like sharing what I've got so far and I'll be updating this topic when I make more progress.
The FULL version of Arduventure is now live on Kickstarter! Back the campaign to support @SiegfriedCroes and the rest of @TEAMarg!