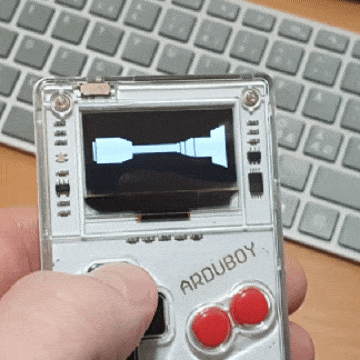 I'm working on a ray casting engine and would like to experiment with fixed point math. At the moment I've got a few thousand floats in pre-computed look-up tables. My thinking is that moving the engine over to fixed point math might help with:
memory (if these values can fit in 8:8 or some other 16-bit configuration, I'd cut my PROGMEM consumption by half!)
speed (even with LUTs precomputed, there's a fair amount of floating point calculations that I might be able to get rid off)
I need help with:
what is the smallest fixed point type available, able to hold these values? Or more generally: how do I figure out if a floating point value will fit in a given fixed point type?
how do I convert these tables to use fixed point types? I'm generating these from a bit of C++ code so it'd be great if there's a simple syntax to go from float to SFixed (or plain int_16t if possible?).
Thanks!
Below is a sample LUT from my app. The forum limits post-length so I put the full set up over on pastebin in case that helps.
constexpr float tan_table[769] PROGMEM {
0.000818,0.009000,0.017182,0.025367,0.033556,0.041749,0.049947,0.058152,0.066365,0.074587,0.082819,0.091062,0.099318,0.107586,0.115870,0.124169,0.132485,0.140819,0.149172,0.157546,0.165941,0.174359,0.182802,0.191269,0.199763,0.208285,0.216836,0.225417,0.234030,0.242676,0.251357,0.260073,0.268826,0.277618,0.286450,0.295324,0.304240,0.313201,0.322208,0.331263,0.340367,0.349522,0.358729,0.367990,0.377308,0.386683,0.396117,0.405613,0.415172,0.424797,0.434488,0.444249,0.454081,0.463986,0.473966,0.484025,0.494163,0.504384,0.514689,0.525081,0.535564,0.546138,0.556807,0.567574,0.578442,0.589412,0.600490,0.611676,0.622975,0.634390,0.645924,0.657580,0.669363,0.681275,0.693321,0.705504,0.717829,0.730299,0.742920,0.755694,0.768628,0.781725,0.794991,0.808430,0.822049,0.835852,0.849845,0.864034,0.878425,0.893024,0.907838,0.922875,0.938139,0.953640,0.969385,0.985381,1.001638,1.018163,1.034966,1.052055,1.069441,1.087135,1.105146,1.123485,1.142165,1.161198,1.180595,1.200370,1.220538,1.241113,1.262110,1.283545,1.305436,1.327798,1.350652,1.374017,1.397913,1.422361,1.447386,1.473010,1.499260,1.526161,1.553743,1.582035,1.611068,1.640878,1.671499,1.702969,1.735328,1.768619,1.802888,1.838183,1.874556,1.912062,1.950760,1.990713,2.031989,2.074660,2.118805,2.164509,2.211859,2.260955,2.311902,2.364813,2.419811,2.477031,2.536620,2.598733,2.663545,2.731244,2.802038,2.876154,2.953842,3.035379,3.121068,3.211248,3.306294,3.406625,3.512709,3.625071,3.744301,3.871069,4.006128,4.150340,4.304689,4.470307,4.648500,4.840782,5.048926,5.275003,5.521475,5.791267,6.087897,6.415625,6.779663,7.186462,7.644079,8.162753,8.755661,9.440068,10.239041,11.184112,12.319571,13.709556,15.450745,17.695831,20.701040,24.931747,31.330647,42.140896,64.327286,135.811066,-1222.229004,-111.115623,-58.199440,-39.420891,-29.801161,-23.952900,-20.021200,-17.196249,-15.068141,-13.407147,-12.074522,-10.981501,-10.068707,-9.294851,-8.630375,-8.053544,-7.548029,-7.101317,-6.703656,-6.347353,-6.026228,-5.735280,-5.470413,-5.228238,-5.005932,-4.801115,-4.611784,-4.436220,-4.272954,-4.120718,-3.978411,-3.845076,-3.719873,-3.602067,-3.491006,-3.386113,-3.286875,-3.192834,-3.103581,-3.018749,-2.938005,-2.861053,-2.787620,-2.717463,-2.650357,-2.586099,-2.524505,-2.465402,-2.408638,-2.354067,-2.301558,-2.250991,-2.202252,-2.155239,-2.109855,-2.066011,-2.023625,-1.982619,-1.942921,-1.904467,-1.867192,-1.831040,-1.795954,-1.761885,-1.728783,-1.696605,-1.665308,-1.634852,-1.605201,-1.576318,-1.548171,-1.520727,-1.493958,-1.467836,-1.442334,-1.417427,-1.393090,-1.369302,-1.346041,-1.323287,-1.301020,-1.279222,-1.257877,-1.236965,-1.216473,-1.196384,-1.176685,-1.157362,-1.138401,-1.119791,-1.101518,-1.083571,-1.065940,-1.048614,-1.031582,-1.014836,-0.998365,-0.982161,-0.966216,-0.950521,-0.935067,-0.919849,-0.904858,-0.890088,-0.875530,-0.861180,-0.847031,-0.833076,-0.819311,-0.805728,-0.792324,-0.779092,-0.766028,-0.753127,-0.740383,-0.727793,-0.715352,-0.703056,-0.690901,-0.678882,-0.666996,-0.655239,-0.643607,-0.632097,-0.620706,-0.609430,-0.598266,-0.587210,-0.576260,-0.565413,-0.554666,-0.544016,-0.533460,-0.522996,-0.512621,-0.502333,-0.492129,-0.482007,-0.471964,-0.461999,-0.452109,-0.442291,-0.432545,-0.422867,-0.413255,-0.403709,-0.394226,-0.384803,-0.375440,-0.366134,-0.356883,-0.347686,-0.338542,-0.329448,-0.320403,-0.311405,-0.302454,-0.293546,-0.284681,-0.275857,-0.267072,-0.258327,-0.249618,-0.240944,-0.232305,-0.223698,-0.215123,-0.206578,-0.198062,-0.189573,-0.181111,-0.172674,-0.164260,-0.155870,-0.147500,-0.139151,-0.130820,-0.122508,-0.114212,-0.105931,-0.097665,-0.089413,-0.081172,-0.072942,-0.064722,-0.056511,-0.048307,-0.040110,-0.031918,-0.023730,-0.015546,-0.007363,0.000818,0.009000,0.017182,0.025367,0.033556,0.041749,0.049947,0.058152,0.066365,0.074587,0.082819,0.091062,0.099318,0.107586,0.115870,0.124169,0.132485,0.140819,0.149172,0.157546,0.165941,0.174359,0.182802,0.191269,0.199763,0.208285,0.216836,0.225417,0.234030,0.242676,0.251357,0.260073,0.268826,0.277618,0.286450,0.295324,0.304240,0.313201,0.322208,0.331263,0.340367,0.349522,0.358729,0.367990,0.377308,0.386683,0.396117,0.405613,0.415172,0.424797,0.434488,0.444249,0.454081,0.463986,0.473966,0.484024,0.494163,0.504384,0.514689,0.525081,0.535563,0.546138,0.556807,0.567574,0.578442,0.589412,0.600490,0.611676,0.622975,0.634390,0.645924,0.657580,0.669363,0.681275,0.693321,0.705504,0.717829,0.730299,0.742919,0.755694,0.768628,0.781725,0.794991,0.808430,0.822049,0.835852,0.849845,0.864034,0.878425,0.893024,0.907838,0.922874,0.938139,0.953640,0.969385,0.985381,1.001638,1.018162,1.034965,1.052055,1.069441,1.087135,1.105146,1.123485,1.142165,1.161197,1.180596,1.200371,1.220539,1.241114,1.262111,1.283546,1.305435,1.327799,1.350653,1.374017,1.397914,1.422362,1.447386,1.473010,1.499261,1.526162,1.553743,1.582036,1.611070,1.640879,1.671499,1.702970,1.735329,1.768620,1.802890,1.838184,1.874557,1.912062,1.950761,1.990714,2.031989,2.074663,2.118807,2.164509,2.211859,2.260957,2.311903,2.364813,2.419814,2.477034,2.536620,2.598733,2.663547,2.731246,2.802039,2.876158,2.953846,3.035380,3.121068,3.211252,3.306297,3.406626,3.512715,3.625075,3.744304,3.871069,4.006133,4.150343,4.304691,4.470317,4.648508,4.840787,5.048925,5.275013,5.521481,5.791270,6.087914,6.415638,6.779672,7.186460,7.644099,8.162767,8.755669,9.440108,10.239076,11.184137,12.319566,13.709618,15.450793,17.695860,20.701231,24.931952,31.330849,42.140839,64.328629,135.814880,-1222.098511,-111.110130,-58.198334,-39.420570,-29.801189,-23.952713,-20.021118,-17.196224,-15.068040,-13.407088,-12.074492,-10.981504,-10.068673,-9.294833,-8.630368,-8.053514,-7.548010,-7.101306,-6.703658,-6.347339,-6.026220,-5.735277,-5.470399,-5.228229,-5.005926,-4.801116,-4.611776,-4.436216,-4.272952,-4.120709,-3.978405,-3.845073,-3.719874,-3.602063,-3.491003,-3.386112,-3.286870,-3.192831,-3.103579,-3.018748,-2.938002,-2.861051,-2.787619,-2.717459,-2.650354,-2.586098,-2.524504,-2.465400,-2.408636,-2.354066,-2.301556,-2.250989,-2.202251,-2.155238,-2.109852,-2.066009,-2.023623,-1.982616,-1.942920,-1.904466,-1.867192,-1.831038,-1.795953,-1.761883,-1.728783,-1.696603,-1.665307,-1.634852,-1.605199,-1.576317,-1.548170,-1.520727,-1.493957,-1.467835,-1.442333,-1.417425,-1.393089,-1.369301,-1.346041,-1.323286,-1.301019,-1.279222,-1.257875,-1.236964,-1.216472,-1.196384,-1.176684,-1.157362,-1.138401,-1.119789,-1.101517,-1.083571,-1.065940,-1.048613,-1.031582,-1.014835,-0.998364,-0.982161,-0.966216,-0.950521,-0.935067,-0.919849,-0.904858,-0.890087,-0.875530,-0.861180,-0.847031,-0.833076,-0.819310,-0.805728,-0.792323,-0.779092,-0.766028,-0.753127,-0.740383,-0.727793,-0.715352,-0.703056,-0.690900,-0.678882,-0.666996,-0.655238,-0.643607,-0.632097,-0.620705,-0.609429,-0.598265,-0.587210,-0.576259,-0.565412,-0.554665,-0.544015,-0.533459,-0.522995,-0.512621,-0.502332,-0.492128,-0.482006,-0.471963,-0.461998,-0.452108,-0.442291,-0.432544,-0.422866,-0.413255,-0.403708,-0.394225,-0.384803,-0.375440,-0.366133,-0.356883,-0.347686,-0.338542,-0.329448,-0.320403,-0.311405,-0.302453,-0.293545,-0.284680,-0.275856,-0.267072,-0.258326,-0.249618,-0.240944,-0.232305,-0.223698,-0.215123,-0.206578,-0.198062,-0.189573,-0.181111,-0.172674,-0.164260,-0.155869,-0.147500,-0.139150,-0.130820,-0.122507,-0.114212,-0.105931,-0.097665,-0.089412,-0.081172,-0.072942,-0.064721,-0.056510,-0.048307,-0.040109,-0.031917,-0.023730,-0.015545,-0.007363,0.000818};