I need to redefine the A0 - A3 ports to analog inputs. I tried to just do
  pinMode(A0, INPUT);
  pinMode(A1, INPUT);
  pinMode(A2, INPUT);
  pinMode(A3, INPUT);

…at the end of setup() and the just do
a0 = analogRead(A0);
…but I only got zero from the port.
When I wrote a completely separate sketch (without the Arduboy library, just something for the Leonardo), I got perfect readings from the ports. I probably need to change something in the library to make this work with the rest of the Arduboy lib. Where exactly can I find the important routines for the button pins?
This video shows how it works. I have a 10k pullup resistor. And I have this conductive plastic foam pulling down. Since the RGB LED has a common anode, the catodes go to the PWM pins to sink the current. The harder press on the foam, the lower voltage on the analog pins, the brighter led.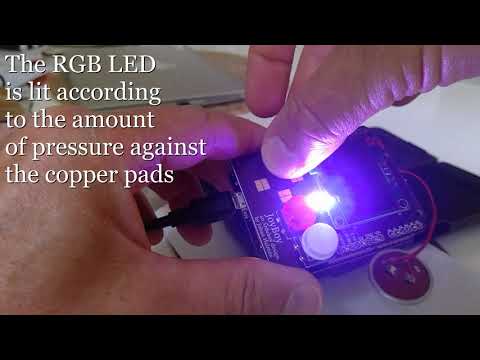 [append]
In pins_arduino.h I found this:
// Mapping of analog pins as digital I/O
// A6-A11 share with digital pins
#define PIN_A0   (18)
#define PIN_A1   (19)
#define PIN_A2   (20)
#define PIN_A3   (21)
#define PIN_A4   (22)
#define PIN_A5   (23)
#define PIN_A6   (24)
#define PIN_A7   (25)
#define PIN_A8   (26)
#define PIN_A9   (27)
#define PIN_A10  (28)
#define PIN_A11  (29)

static const uint8_t A0 = PIN_A0;
static const uint8_t A1 = PIN_A1;
static const uint8_t A2 = PIN_A2;
static const uint8_t A3 = PIN_A3;
static const uint8_t A4 = PIN_A4;
static const uint8_t A5 = PIN_A5;
static const uint8_t A6 = PIN_A6;	// D4
static const uint8_t A7 = PIN_A7;	// D6
static const uint8_t A8 = PIN_A8;	// D8
static const uint8_t A9 = PIN_A9;	// D9
static const uint8_t A10 = PIN_A10;	// D10
static const uint8_t A11 = PIN_A11;	// D12

Would this be the right place to disable the redefining of analog pins? If I just comment out all lines with A0 to A3?
I do know that I would disable my Arduboy to work with standard Arduboy software, but this is a prototype for a new concept. Later on I'll figure out how to get it work with standard Arduboy games.